Every year, the Christmas Around the World parade comes to Immokalee — and TIF's students always look forward to putting on a good show as participants in the parade.
This year, TIF's Vocational Success students came up with the theme "Disco Fever" and conjured music-related designs to decorate a holiday float. While Vocational Success students handled the cutting and construction, more than 80 students from across TIF's programs came together to see the project through. The parade provided students with a valuable opportunity to use the skills they're developing in school and in their vocational programs. At the same time they found a fun and exciting way to make a holiday contribution to their community.
"It's great to see these kids building skills and character at the same time," says Elda Hernandez, program manager for Vocational Success. "And the team work they displayed was incredible."
Continue on for additional photos of the creation process for the 2010 Christmas Around the World Parade.
TIF student Rose and TIF program manager Linsay take a break from their work to pose for the camera.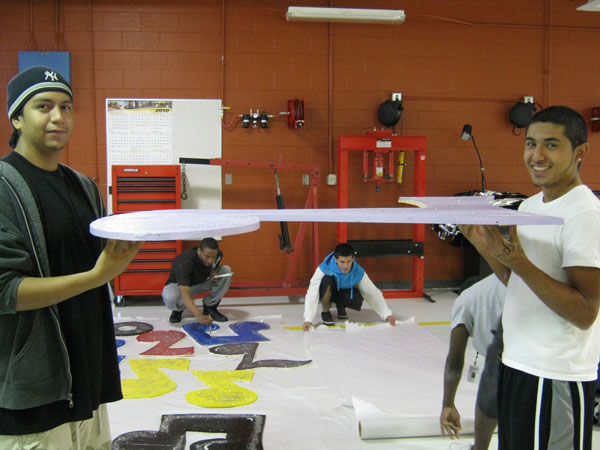 TIF students display a finished musical note.
TIF students gather for a snapshot before getting back to work on the "Disco Fever" decorations.
The saws came out. Among TIF students, only members of Future Builders of America are allowed to operate the saws, as they are trained and certified to use this equipment.