Discovering the
Opportunities of a Lifetime
The Immokalee Foundation's Career Exploration program begins in middle school and introduces a broad range of career choices to Immokalee youth. Most students come from families in which the choices have been limited; Career Exploration empowers our youth to imagine a different future for themselves — and to make the right decisions to achieve their dreams.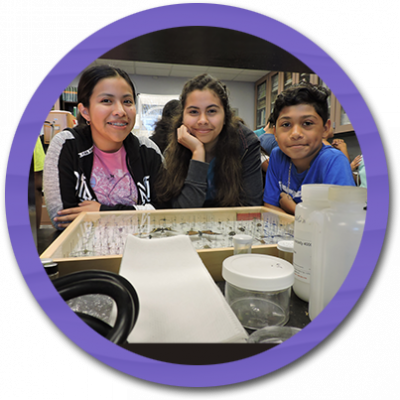 Laying the Foundation
for Future Success
Middle school students participate in an extensive educational process that explores a broad range of careers through a six-week rotation focused on each of the four pathways: Engineering & Construction Management, Business Management & Entrepreneurship, Education & Human Services, and Health Care. There are career panels, group mentoring, field trips, mandatory workshops, career interest, aptitude assessments, a four-week summer STEM (Science, Technology, Engineering, and Math) Academy in partnership with Florida Gulf Coast University, and for eighth-graders, the development of a career plan for high school with the assistance of career counselors.
Throughout each school year, students' parents learn about the professional pathways available – including information about the demand for certain jobs, the training required, and the average pay – to help forge the partnership between the family and the Foundation that will help their children excel.
The numbers tell the tale

0
Number of Middle School Students in Program


Frequently Asked Questions
What sort of skills do students learn through Career Development?
The technical term is foundational skills — that is, communicate effectively, commit to the job, learn new tasks, leadership skills, and positive work ethics. In addition, these students develop practical skills for a specific vocation.
What is the community service aspect of Career Development?
All TIF programs require that students have "skin in the game" by performing community service. This is all part of TIF's empowerment model for student growth. We introduce and provide opportunities for a range of community service opportunities. These students are genuinely enthusiastic about giving back and engaging with their community as a participant, not a recipient.
How are donations to Career Development used?
Financial support is used to fund the career development and educational readiness through workshops, career panels, college and technical tours that provide productive activities for the students, such as leadership training programs.
Our Career Development volunteers serve a range of functions. While some serve on advisory boards to help with career panels and career clusters, other volunteers help with mentoring, facilitate field trips, work experiences and assist with employ ability skill training. If you'd like to get involved, please contact us at info@immokaleefoundation.org or (239) 430-9122.
"My favorite part of Middle School Academy is learning about careers plans after high school and the fun activities we do that represent our future."