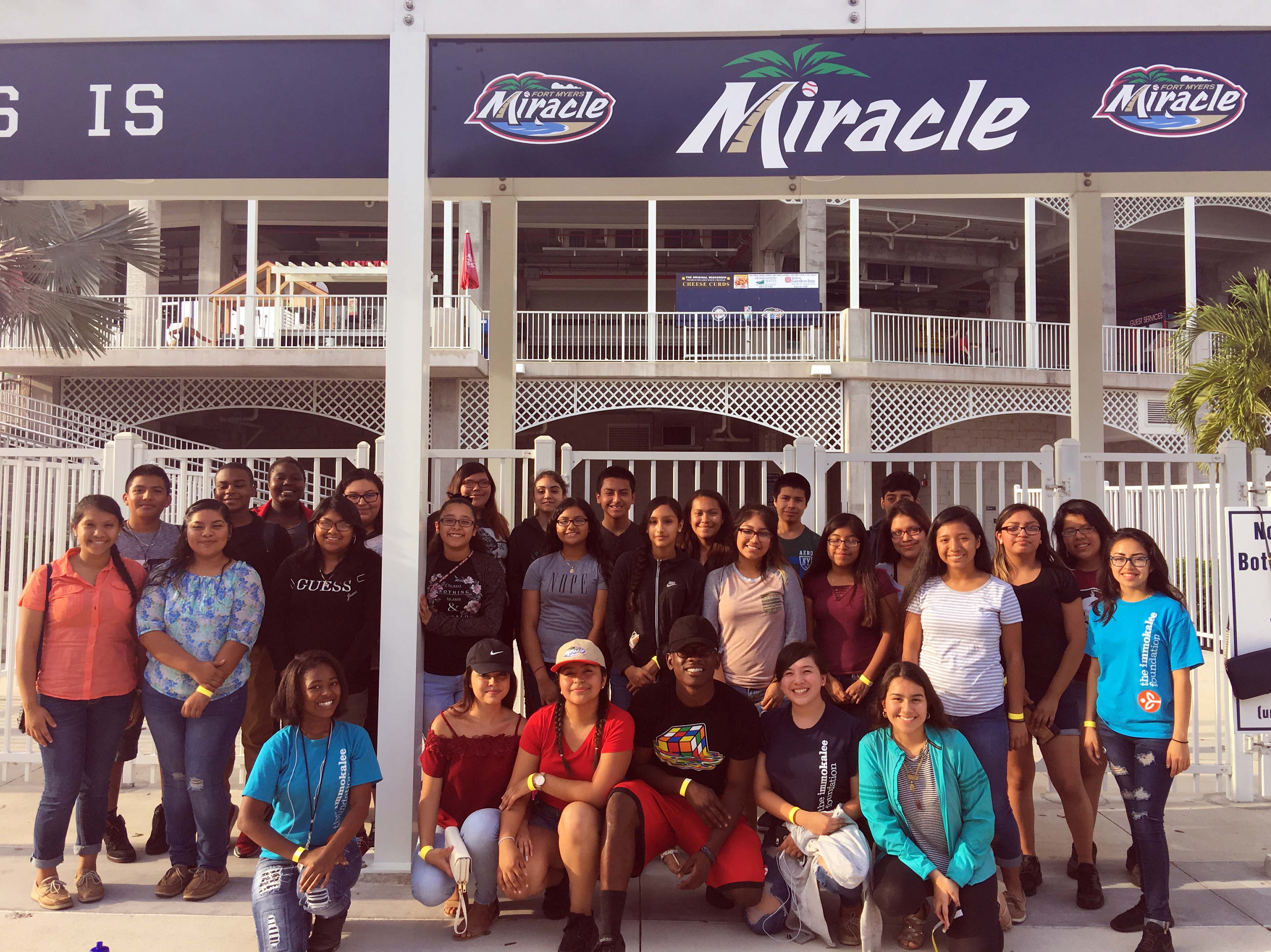 Thirty-two students in The Immokalee Foundation's programs recently enjoyed a Fort Myers Miracle minor league baseball game at an outing sponsored by MidWestOne Bank's Fort Myers and Naples branches.
Before the April 28 game, the students enjoyed a traditional ballpark dinner of hamburgers, hot dogs, chips and popcorn. Although the Miracle lost to the Dunedin Blue Jays 4-8, the post-game fireworks display was a highlight for everyone.
"I've never seen fireworks up so close," said Rosalinda Gregorio-Matias, a 15-year-old tutor in the Immokalee Readers program who journeyed to Hammond Stadium in Fort Myers with classmates, chaperones and MidWestOne employees.
The annual visit to a Miracle game with The Immokalee Foundation students began three years ago with MidWestOne's predecessor, Central Bank, which hailed from Minnesota, home of the Miracle's Major League Baseball affiliate, the Twins. MidWestOne continued the tradition after its purchase of Central Bank in April 2016.
MidWestOne Regional Retail Manager Ana Maria Seneca coordinated the trip. "It's a blast – I love watching the kids get excited, enjoying the game and having a good time," Seneca said. "It also gives the employees a chance to meet the kids and see some of the organizations we support. We're a community bank, and we try to give back to Southwest Florida as much as we can."
Often, the outing gives The Immokalee Foundation students their first professional baseball game experience, plus some well-deserved down time with their friends. It is one way the foundation and its community partners help Immokalee students see beyond the community in which they live.
Gregorio-Matias participated in The Immokalee Foundation's Junior Career Development program when she was in eighth grade. Until then, she thought little about life beyond high school. "At first, I wasn't really interested in going to college," she said. "I never gave it a second thought. I just wanted to get my high school diploma. But attending meetings and learning about people's careers through The Immokalee Foundation got me interested in going to college."
The Immokalee Foundation provides a range of education programs that focus on building pathways to success through college and post-secondary preparation and support, mentoring and tutoring, opportunities for broadening experiences, and life skills development leading to economic independence. To learn more about The Immokalee Foundation, volunteering as a career panel speaker or host, becoming a mentor, making a donation, including the foundation in your estate plans, or for additional information, call 239-430-9122 or visit www.immokaleefoundation.org.