The promise of education
The Immokalee Foundation has been a Take Stock in Children of Florida program partner since 2001. Established in 1995 as a non-profit organization, Take Stock in Children of Florida provides a unique opportunity for deserving low-income youth/students, many from minority families, to break the cycle of poverty through education.
This scholarship and mentoring program helps increase high school graduation and college enrollment rates. Each student is partnered with a volunteer mentor who provides support, guidance, accountability and friendship. Upon successful high school graduation, students are awarded full-tuition scholarships to four-year state colleges, two-year community colleges, or vocational/technical schools, depending on their career paths.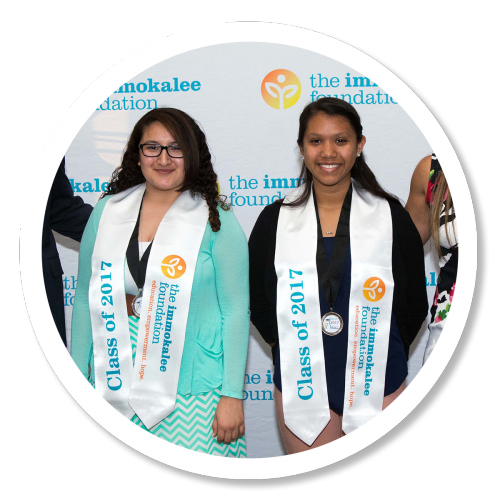 An investment that yields great returns
Since 2001, The Immokalee Foundation's Take Stock program has awarded more than $1 million in scholarships. Students are eligible beginning in the seventh grade; qualified students must fulfill a pledge to earn good grades, exhibit good behavior, remain crime- and drug-free, and meet weekly with a mentor. At the first Immokalee Foundation Take Stock in Children graduation, 12 students were celebrated. In 2017, 169 high school students were in the program.
The Immokalee Foundation recently earned its fifth consecutive Take Stock in Children Gold Level of Excellence Award. Jillian Hasner, Take Stock in Children President and CEO, said, "The Immokalee Foundation exceeded target in 10 performance categories. We applaud the hardworking mentors, staff and supporters on another year of phenomenal service for the students of Immokalee and the community."
The numbers tell the tale

0
Number of high school students in program


0
%
High school graduation rate

0
Total number of community service hours completed by students

0
Number of students currently in college on TSIC scholarships

107 Students Currently in College on TSIC Scholarships
Frequently Asked Questions
How does $8,500 invested in a seventh grader grow into a full college tuition scholarship?
This is the approximate purchase price of a four-year tuition through the Florida Prepaid Foundation. Funds are immediately matched by the Prepaid Foundation so the purchasing power is doubled. Because TSIC students perform well, they often leverage their TSIC scholarships to exceed $40,000 in value.
How do you decide which students are able to participate in Take Stock in Children?
Students are selected based on economic need, essay questions, and an interview. The admissions team also assesses each student's potential to maintain a minimum 2.5 GPA, stay out of trouble, meet school attendance requirements, and perform community service.
What does it mean to be a Take Stock in Children mentor?
TSIC mentors enjoy the opportunity to empower individual students, helping those students to find their own personal paths to success. With a time investment of just one or two hours each week, a volunteer can get to know a student and help them navigate the challenges of education and life.
Why are mentors important?
Students raised in Immokalee are at high risk of failing to complete high school, as evidenced by the 57% high school graduation rate. Our TSIC students have a 97% graduation rate. We attribute much of this success to the hard work of our volunteer mentors who meet regularly with our students, coaching and supporting them throughout the school year.
"My mentor has encouraged me to further my education and to keep striving to accomplish my goals. Most importantly, she is one of my greatest friends."

Immokalee High School senior and Florida SouthWestern State College early-admission student