As part of The Immokalee Foundation's Career Pathways program, students learn about employment possibilities through Career Panels – including one recently sponsored by NeoGenomics, the Fort Myers-based premier cancer diagnostics and pharma services company.
With an educational curriculum designed to help The Immokalee Foundation's middle and high school students achieve their career goals, Career Pathways provides the support, tools and skills needed for well-paying, in-demand careers in high-growth Southwest Florida employment sectors.
Working with industry experts and educators, The Immokalee Foundation developed after-school and summer programs focused on career exploration, professional career panels, field trips and internships that introduce students to new experiences and help them develop new skills. The foundation's four Career Pathways include Business Management & Entrepreneurship, Education & Human Services, Engineering & Construction Management, and Healthcare.
The NeoGenomics-sponsored panel, attended by 66 students via Zoom, featured NeoGenomics' Christian Placinta, talent engagement manager; and Heather Carter, talent engagement specialist.
"At NeoGenomics, we believe in saving lives by improving patient care," said Placinta. "There are many careers in the cancer diagnostic industry, whether you take a technical, scientific or operational track. We wish The Immokalee Foundation students all the best and encourage them to follow their dreams and aspirations."
Rounding out the panel with additional business and healthcare industry perspectives were SandraLee Buxton, RN, BSN, MA, a licensed healthcare risk manager and director of community engagement from The Arlington, a resort-style retirement community in Naples, and Maureen Lambe, a recently retired executive vice president of the National Apartment Association Education Institute.
"The students were very attentive and asked many thoughtful questions about careers in property management," said Lambe. "In fact, the questions I received were more insightful than those I have received when making presentations to college students."
Joseph Sciortino, a mentor with The Immokalee Foundation who also attended the panel, was impressed both by the quality of the speakers and the enthusiasm of the students.
"It was very informative," Sciortino said. "This is an excellent program that has been developed by The Immokalee Foundation. Sandra was a very good motivational speaker."
Another virtual career panel with professionals representing Physicians Regional Healthcare System drew a record-breaking 90 student participants.
"That level of attendance is especially impressive, considering the event was held via Zoom on a scheduled day off from school," said Barbara Hawkes, The Immokalee Foundation's career advancement manager. "It really speaks to the students' dedication to our programs and interest in learning about the qualifications needed to succeed in different careers."
Featured speakers included Physicians Regional Healthcare System's Director of Surgical Services, Marline Courageux, an Immokalee High School graduate; Joel Franco, a neuro interventional technologist; and Dr. Yaritza Perez-Soto, a surgeon.
Student advocate Thalia Vasquez was enthusiastic about the career panel, adding, "It was definitely a sight to see and an inspirational moment to witness!"
Along with career panels, career field trips – currently virtual – are offered to students throughout the year. These immersive experiences provide valuable insight and give the students an opportunity to ask specific questions about their areas of interest.
"By learning about various businesses and organizations within the region, our students hear firsthand about the variety and depth of career opportunities that are available," said Hawkes. "We are looking forward to on-site visits once again, as soon as COVID protocols allow."
The Immokalee Foundation's next career field trip will be sponsored by the DeMine Immigration Law Firm in Fort Myers. Other area businesses that have participated in career panels and career field trips for The Immokalee Foundation students include Arthrex, Autumn Consulting, Bank of America, Entech, Florida Gulf Coast University, Gartner, Healthcare Network of SWFL, Naples Daily News, PulteGroup, and UF/IFAS Southwest Florida Research and Education Center.
The Immokalee Foundation provides a range of education programs that focus on building pathways to professional careers through support, mentoring and tutoring, and life skills development leading to economic independence. To learn more about The Immokalee Foundation, becoming a mentor, its signature events, volunteering as a career panel speaker or host, making a donation, including the foundation in your estate plans, or for additional information, call 239-430-9122 or visit https://immokaleefoundation.org.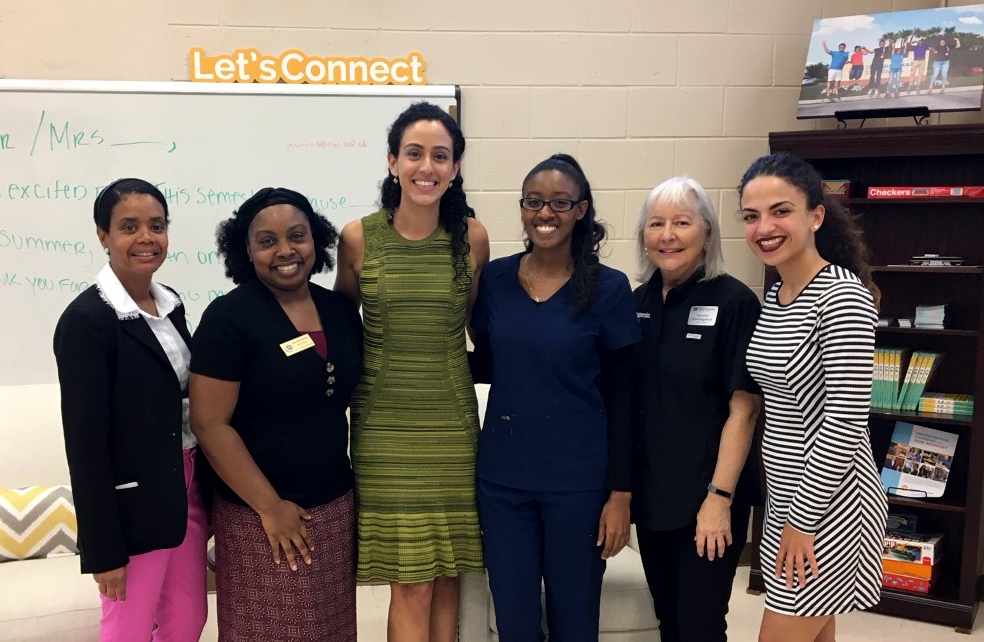 Dr. Martine Wooley, Healthcare Network of SWFL pharmacist (far left) with students;
Ashley Dewji, JP Morgan – Financial (green dress); Suzanne Fundingsland, MS, LDN, RDN,
UF/IFAS Extension Family Nutrition Program (second from right) during an
Immokalee Foundation Career Panel in March 2020.